INDEPENDENT RETAILER magazine is now the official news outlet for Wholesale Central visitors. Each monthly issue is packed with new product ideas, supplier profiles, retailing news, and business strategies to help you succeed.

See new articles daily online at IndependentRetailer.com.
FALK SALES has put together an assortment of popular animal print handbags. This preselected assortment contains 10 bags, for a total wholesale of $99. The handbags have a high end look, and retail from $25 to $40. They are made of imitation leather and have handles and interior zipper compartments. Among the most popular prints are giraffe and zebra, and some leopard patterns. While these are primarily two tone, some units have different contrast colors of bright trim.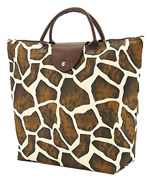 The assortment includes regular and large size units. The former are about 12 inches wide and 10 inches high, while the larger ones measure about 15 inches wide. The bags are shown on the company website and can be ordered online. Assortments that help retailers take the guesswork out of ordering, and also provide large profit margins, are a specialty of Falk Sales. It also sells assortments of watches and assortments of other handbags.
There is no minimum, and the company offers same day shipping. In all, Falk Sales carries approximately 1,500 handbags, and also carries totes and backpacks, in addition to watches.
For more information, contact:
Falk Sales
34 Old Derry Road
Hudson, NH 03081
Tel.: 603-521-6069
Toll Free Fax: 888-801-0871
Website: www.falksales.com
Entire contents ©2023, Sumner Communications, Inc. (203) 748-2050. All rights reserved. No part of this service may be reproduced in any form without the express written permission of Sumner Communications, Inc. except that an individual may download and/or forward articles via e-mail to a reasonable number of recipients for personal, non-commercial purposes.