INDEPENDENT RETAILER magazine is now the official news outlet for Wholesale Central visitors. Each monthly issue is packed with new product ideas, supplier profiles, retailing news, and business strategies to help you succeed.

See new articles daily online at IndependentRetailer.com.
CARDBOARD SAFARI has introduced three dimensional cardboard jigsaw puzzles in the form of animal trophies. There are currently four different animal designs, and each is offered in three sizes and a choice of either kraft board color, beige or white.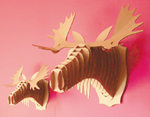 They are made of recycled cardboard and come flat, ready for assembly. Each design consists of between 20 and 25 different pieces, and assembly is accomplished in about 15 minutes. The components are laser cut for a precise fit.
The designs include Buck, a deer; Fred, a moose; Robbie, a rhino, and Billy, a bison. The large size is approximately two feet square. The medium size, called junior, is half that, and micro, the smallest, is half the size of a junior.
Additional designs are on the drawing board. Units are individually packaged. An assembled piece is shown on the cover of the package, and instructions for assembly are inside.
The wholesale costs are $26, $14 and $8 for large, junior and micro units. Their suggested retail prices are $52, $28 and $16. The minimum order is $250, and can contain any mix of designs, sizes and colors. A sample for display is included with opening orders of $500 or more.
For more information, contact:
Cardboard Safari
P.O. Box 63
Charlottesville, VA 22902
Toll Free: 877-895-9453
Website: www.cardboardsafari.com
Entire contents ©2023, Sumner Communications, Inc. (203) 748-2050. All rights reserved. No part of this service may be reproduced in any form without the express written permission of Sumner Communications, Inc. except that an individual may download and/or forward articles via e-mail to a reasonable number of recipients for personal, non-commercial purposes.