INDEPENDENT RETAILER magazine is now the official news outlet for Wholesale Central visitors. Each monthly issue is packed with new product ideas, supplier profiles, retailing news, and business strategies to help you succeed.

See new articles daily online at IndependentRetailer.com.
BAD BOYS OF THE TABLE offers an extensive line of poker themed apparel, including T-shirts, sweat shirts, and dress shirts for men, women's T-shirts and camisoles, and caps and hats. All carry the company's trademarked logo and sayings.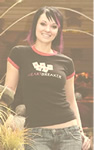 Among the sayings on the apparel are, "You Raise It; I'll Hold It," "The River Will Deliver," "Aces in all the Right Places," and "I've Stacked my Chips." Women's lines feature, "Bad Girls at the Table," and a design showing cards with hearts that says, "Heart Breaker."
The men's units are offered primarily in white or black, with a few color variations. The women's tops come in a choice of fuchsia, hot pink, aqua and black. All are of high quality fabric.
The company offers a sample pack of 24 units covering an array of styles and sayings for $199 wholesale. Men's T-shirts without a pocket wholesale for between $6 and $10 a unit, and suggested retail price is $19.99. Polo shirts wholesale for between $13 and $14, with a suggested retail of about $29.
Sweat shirts wholesale for $18, with a retail between $35 and $40. Dress shirts wholesale for $20, and suggested retail ranges from $49 to $59.99. A premium men's polo shirt of advanced technical fabric wholesales for from $30 to $35 and typically retails for $69.
The women's camisoles wholesale for $8 and $10, and retail from $19.99 to $29.99. Wholesale prices apply to orders ranging from a single unit to 144 units of the same type and style.
For more information, contact:
Bad Boys of the Table
4009 Bucknall Road
Campbell CA 95008
Toll free: 888-268-9327
Tel.: 408-391-4493
Email: info@botwear.com
Website: www.botwear.com
Entire contents ©2021, Sumner Communications, Inc. (203) 748-2050. All rights reserved. No part of this service may be reproduced in any form without the express written permission of Sumner Communications, Inc. except that an individual may download and/or forward articles via e-mail to a reasonable number of recipients for personal, non-commercial purposes.