INDEPENDENT RETAILER magazine is now the official news outlet for Wholesale Central visitors. Each monthly issue is packed with new product ideas, supplier profiles, retailing news, and business strategies to help you succeed.

See new articles daily online at IndependentRetailer.com.
AQUA BLING has developed a product by the same name, which is a spring loaded decorative clip that can be attached to the neck of any standard size beverage bottle and to the stem of a wine glass. It is especially designed to immediately identify a person's bottle or glass in a group situation.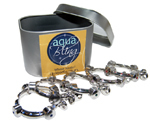 Aqua Bling units combine a zinc alloy with a crystal. There are six different designs: a butterfly, fleur de lis, cross, handbag, circle and ribbon. All but the ribbon design are offered in five colors: red, blue, pink, green and white. The ribbon design is the familiar pink ribbon associated with combating breast cancer. It comes only in pink, and proceeds from its sale are donated to breast cancer research.
Aqua Bling units are packaged in nylon reusable sachet bags. They are offered in single units and in an Aqua Pack, which contains all five colors of a design in a metal canister. The minimum order is $100. The wholesale cost for a single Aqua Bling is $3, and suggested retail is $6.95. The wholesale cost for an Aqua Pack is $15, with suggested retail of $34.95.
A variety of display options are available for purchase. They include a bar style display for showing individual Aqua Bling units, and a corrugated box displayer for Aqua Packs.
For more information:
Aqua Bling
P.O. Box 126
Vermillion, SD 57069
Toll Free: 877-325-6826
Tel./Fax: 605-658-2782
Website: www.myaquabling.com
Entire contents ©2022, Sumner Communications, Inc. (203) 748-2050. All rights reserved. No part of this service may be reproduced in any form without the express written permission of Sumner Communications, Inc. except that an individual may download and/or forward articles via e-mail to a reasonable number of recipients for personal, non-commercial purposes.