INDEPENDENT RETAILER magazine is now the official news outlet for Wholesale Central visitors. Each monthly issue is packed with new product ideas, supplier profiles, retailing news, and business strategies to help you succeed.

See new articles daily online at IndependentRetailer.com.
AQUA CLIP invented and is the exclusive supplier of the Aqua Clip Beverage Bottle Holder. The clip is a simple L shape design that slips onto the neck of a beverage bottle and then clips onto the user's waistband or belt.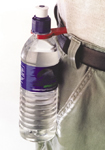 As a result, the bottle is always within easy reach while the user's hands are free. That makes Aqua Clip ideal for hiking, jogging, shopping, golfing, or participating in any activity in which water or a liquid is welcome, especially if it doesn't have to be carried. In short, it converts a beverage bottle into a canteen. The clip will accommodate a plastic or glass bottle ranging from eight ounces to two liters in size. It also has a built in cap wrench with gripper teeth for those hard to open bottles. Aqua Clip is made of recycled polycarbonate, and the inventor holds both the utility and design patent on the device, which is made in the U.S. Aqua Clip is available in a choice of 29 colors. Of those, 13 are tropical translucent shades and the other 16 are solid colors. The minimum order is 250 units. The wholesale cost is 72 cents. The suggested retail ranges from $2 to $3 and averages $2.50. A 50 count retail displayer is available that contains up to five different assorted colors. Orders of 1,000 units can contain up to 10 different assorted colors. For more information, contact:
Aqua Clip
P.O. Box 3656
Huntington Beach, CA 92605
Toll Free: 877-420-4665
Tel.: 714-848-7130
Website:
www.aquaclip.com
Entire contents ©2023, Sumner Communications, Inc. (203) 748-2050. All rights reserved. No part of this service may be reproduced in any form without the express written permission of Sumner Communications, Inc. except that an individual may download and/or forward articles via e-mail to a reasonable number of recipients for personal, non-commercial purposes.