INDEPENDENT RETAILER magazine is now the official news outlet for Wholesale Central visitors. Each monthly issue is packed with new product ideas, supplier profiles, retailing news, and business strategies to help you succeed.

See new articles daily online at IndependentRetailer.com.
THE BAGGLER COMPANY offers The Baggler, a trademarked, patent pending device with three hooks that can hold up to 18 pounds each. This allows the user to easily carry a multiple of shopping bags aggregating 50 pounds in one hand. It is about five inches wide, 4.5 inches high and a half inch thick, and weighs just 1.7 ounces; compact and light enough to carry in a pocket or purse or clip onto a belt loop. It consists of a comfortable grip and three hooks, each of which has a smooth rounded tip and a V channel with a slight overlap, in order to hold bags firmly and allow them to be removed easily.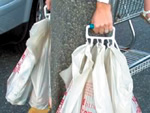 The Baggler accommodates plastic, rope handle and thin handle cloth bags. The device is made of a smooth, frictionless, latex free polymer that can handle temperatures as low as five degrees below zero and as high as 120 degrees. The grip is a soft rubber like composite that makes it possible to carry the multiple of bags comfortably for long periods of time.
It has been featured widely in print and broadcast media, and is carried in approximately 6,000 stores in eight countries. Real life testimonials are featured on the company website, along with all design features. The Baggler is offered in a choice of 10 different grip and handle color combinations: lime green/white, navy/white, green/white, blue/cream, pink/lavender, red/white, violet/aqua, garnet/cream, beach sand/ivory and orange/white.
The minimum order is two display packages, each containing 60 units, or a case of 70 loose, single units. The case of 70 wholesales for $190.80, which represents a cost of $2.65 a unit. One case of 60 units contains five clip strips of 12 units each, at a wholesale price of $159. A shipper floorstand of 60 units is also available for $159. These also represent a wholesale cost of $2.65 a unit. The suggested retail is $4.99.
For more information, contact:
The Baggler Company
Five Glenwood Avenue
Augusta, ME 04330
Tel.: 207-441-4953
Fax: 207-622-9932
Website: www.thebaggler.com
Entire contents ©2022, Sumner Communications, Inc. (203) 748-2050. All rights reserved. No part of this service may be reproduced in any form without the express written permission of Sumner Communications, Inc. except that an individual may download and/or forward articles via e-mail to a reasonable number of recipients for personal, non-commercial purposes.