INDEPENDENT RETAILER magazine is now the official news outlet for Wholesale Central visitors. Each monthly issue is packed with new product ideas, supplier profiles, retailing news, and business strategies to help you succeed.

See new articles daily online at IndependentRetailer.com.
DELIGHT TRADING INC., which specializes primarily in products of natural bamboo, has introduced a Tikki Bar, designed for outdoor use, and a line of bamboo fountains. There is also a new line of tabletop resin fountains.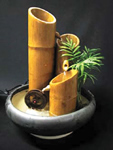 The bar has a thatched roof above it, a two door cabinet and a rack for glasses on one side, and comes with two stools. It stands 92 inches high, 30 inches deep, 60 inches wide, and is weatherproof. There is no minimum order. The wholesale price is $399, and suggested retail ranges from $900 to $1,200.
There are 30 different styles of unique fountains, designed for indoor and/or outdoor use, depending on size. All are handmade of natural bamboo. The smallest unit is 7.5 by 7.5 inches, and 12 inches high. Its wholesale price is from $12, and suggested retail is $29.99.
The largest in the collection is 70 inches high and 22 inches by nine inches. The wholesale price is $139, and the suggested retail is $300 to $400.
The new line of low cost, resin tabletop fountains comes in an assortment of 50 different designs. They are themed figurines, including a Zen Buddha, rolling ball and depiction of bamboo. The units plug into a regular household electrical outlet, and wiring is included.
The smallest in this series is five by five by seven inches. Wholesale prices range from $7.50 to $13 a unit, depending on size and style. Suggested retail ranges from $15 to $30.
For more information, contact:
Delight Trading Inc.
601 Monterey Pass Road
Monterey Park, CA 91754
Toll Free: 800-996-6818
Tel.: 626-289-3311
Fax: 626-289-3344
Website: www.delight88.com
Entire contents ©2022, Sumner Communications, Inc. (203) 748-2050. All rights reserved. No part of this service may be reproduced in any form without the express written permission of Sumner Communications, Inc. except that an individual may download and/or forward articles via e-mail to a reasonable number of recipients for personal, non-commercial purposes.