INDEPENDENT RETAILER magazine is now the official news outlet for Wholesale Central visitors. Each monthly issue is packed with new product ideas, supplier profiles, retailing news, and business strategies to help you succeed.

See new articles daily online at IndependentRetailer.com.
MAGIC KIDS USA offers name brand apparel for children, from toddlers to preteens at deep discounts. These are all first quality closeouts and overstocks, and offered at 50 to 60 percent below wholesale prices.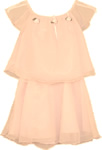 There are styles for boys and girls in the full gamut of fashion, from fancy party and church dresses to school clothes, sports apparel and casual clothing. Hundreds of different items are available and all are top of the line.
They can be viewed at the website, www.magickidsusa.com, where they are shown by category, such as boys, girls, infants, toddlers, shoes and more. The web shows the actual item, color and size and also provides wholesale pricing on a graduated scale, depending on the number of items in an order.
One example is a two piece satin dress that, on orders of one to five, wholesales for $20.90 per dress. On orders of six to 11, the wholesale price drops to $17.10. And on orders of 12 to 59, the price falls to $15.10 a unit. The suggested retail price is $64.95 a unit.
A name brand jogging set wholesales for as little as 99 cents. A boy's jacket wholesales for as little as $3.99. Top quality boots are available at wholesale prices as low as $2.98 a pair.
Retailers can buy by the dozen and order an assortment of styles and sizes. In order to obtain these deals, the retail must use this discount code: MK30596.
For more information, contact:
Magic Kids USA
8235 Remmet Avenue
Canoga Park, CA 91304
Tel.: 818-883-3900
Website: www.magickidsusa.com
Entire contents ©2023, Sumner Communications, Inc. (203) 748-2050. All rights reserved. No part of this service may be reproduced in any form without the express written permission of Sumner Communications, Inc. except that an individual may download and/or forward articles via e-mail to a reasonable number of recipients for personal, non-commercial purposes.