INDEPENDENT RETAILER magazine is now the official news outlet for Wholesale Central visitors. Each monthly issue is packed with new product ideas, supplier profiles, retailing news, and business strategies to help you succeed.

See new articles daily online at IndependentRetailer.com.
JKE LIQUIDATORS AND DISTRIBUTORS LLC supplies a selection of closeout, first quality Geneva brand watches for men and women. They are all new overstocks, and the selection includes dress and sporty styles. The company offers keychain and pendant watches, all well below regular wholesale prices.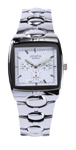 The traditional watches with bands are individually packaged and some come with attractive watch cases. These wholesale for $8.91, which is at least 50 percent lower than the regular wholesale price, and the suggested retail is between $25 and $30.
On orders of five Geneva brand units or more, the wholesale price drops to $7.47, and on a case of 24 units of the same style, that wholesale comes down to $4.35. There is a five percent discount on orders of $1,000 or more, and that order can include any of JKE's product offerings, which include sunglasses, caps, toys, apparel and other items.
Novelty keychain watches wholesale for as little as $3.73 on orders of a case of 24 units. On smaller orders, the wholesale price is $7.63. The same wholesale pricing is offered on watch pendants.
For more information, contact:
JKE Liquidators and Distributors LLC
1443 Georges Hill Road
Southbury, CT 06488
Toll Free: 866-508-7339
Tel.: 203-267-7339
Website: www.jkeliquidators.com
Entire contents ©2022, Sumner Communications, Inc. (203) 748-2050. All rights reserved. No part of this service may be reproduced in any form without the express written permission of Sumner Communications, Inc. except that an individual may download and/or forward articles via e-mail to a reasonable number of recipients for personal, non-commercial purposes.