INDEPENDENT RETAILER magazine is now the official news outlet for Wholesale Central visitors. Each monthly issue is packed with new product ideas, supplier profiles, retailing news, and business strategies to help you succeed.

See new articles daily online at IndependentRetailer.com.
BIG MOUTH TOYS.COM has designed and manufactured The Six Pack Holster, a belt with six pockets, each designed to hold a 12 ounce traditional beer or soda can. It comes in one size that fits waists from 30 to 54 inches.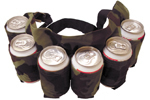 Ideal for tailgating, picnics and parties, The Six Pack Holster is made of cotton fabric and it comes in a choice of five colors: black, pink, blue, red and a camouflage print. The best seller is camouflage and the second is pink, the company reports.
The belt also allows a host to provide drinks to several guests without going back to the kitchen. It can also hold smaller soda or water bottles.
The minimum order is 24 pieces, and can be in a mix of colors. The wholesale cost is $5. The suggested retail price is $9.99.
For more information, contact:
Big Mouth Toys.com
206 Murphy Road
Hartford, CT 06114
Toll Free: 800-592-0293
Tel.: 860-761-7237
Toll Free Fax: 800-717-8963
Website: www.bigmouthtoys.com
Entire contents ©2022, Sumner Communications, Inc. (203) 748-2050. All rights reserved. No part of this service may be reproduced in any form without the express written permission of Sumner Communications, Inc. except that an individual may download and/or forward articles via e-mail to a reasonable number of recipients for personal, non-commercial purposes.