INDEPENDENT RETAILER magazine is now the official news outlet for Wholesale Central visitors. Each monthly issue is packed with new product ideas, supplier profiles, retailing news, and business strategies to help you succeed.

See new articles daily online at IndependentRetailer.com.
WESTERN EXPRESS INC. has added a line of licensed logos on belt buckles, and on other products as well. The licenses are among the best known and most popular graphic images.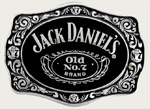 They include Jack Daniels, John Deere, Wrangler, the Professional Bull Riders Association, Ford, Chevy, Peterbilt trucks and Dodge. Also included are logos of virtually all the top professional and college sports teams, across all sports. They include teams in the National Football League, NCAA, National Basketball Association, Major League Baseball, the National Hockey League and NASCAR. The buckles are of a metal alloy and measure four inches by three. Some have color and others have a shaded, rustic look. The wholesale price starts at $10 and varies depending on the size of the order and the content. The suggested retail price is $22.95. A free countertop display is provided for orders of 24 belt buckles or more. Western Express also has other products bearing licensed logos, including Jack Daniels wallets and belts, Wrangler wallets, and John Deere T-shirts and signs. The T-shirts wholesale for $10.50, and have a suggested retail price of $22.95. The leather wallets wholesale for $22, and suggested retail is $44.99. The minimum order is $100, and can include an assortment of any and all products available from the company. For more information, contact:
Western Express Inc.
300 Villani Drive
Bridgeville, PA 15017
Toll Free: 800-245-1380
Tel.: 412-257-5020
Fax: 412-257-5022
Website:
www.westernexpressinc.com
Entire contents ©2023, Sumner Communications, Inc. (203) 748-2050. All rights reserved. No part of this service may be reproduced in any form without the express written permission of Sumner Communications, Inc. except that an individual may download and/or forward articles via e-mail to a reasonable number of recipients for personal, non-commercial purposes.