INDEPENDENT RETAILER magazine is now the official news outlet for Wholesale Central visitors. Each monthly issue is packed with new product ideas, supplier profiles, retailing news, and business strategies to help you succeed.

See new articles daily online at IndependentRetailer.com.
BLING STRANDS offers Bling Strands, which are strands of colorful synthetic hair that attach easily to real hair to give it added spark. Bling Strands are 18 inches long and come in a choice of 22 different colors. More than half of the 22 choices reflect light, while the others are in the "sizzling" line, which adds additional reflective flashes. The 18 inch strands can be cut to fit almost any hair length, and the company will supply special orders of strands up to 36 inches long.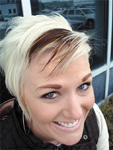 Bling Strand packages come with full instructions for use. They attach to one piece of hair with a single knot, and go along the part line at every inch to intersperse with natural hair. Once attached, they can be styled just as the natural hair is styled, including shampooing and use of a blow dryer. Use of a fine tooth comb, however, is not recommended, and that is the only limitation. They typically stay in place for three to four weeks.
Bling Strands are offered in three different packages. A 25 strand unit contains enough strands for about two heads of hair, adding approximately 10 to 15 strands per head. This wholesales for $6. If a buyer orders a displayer containing 50 25-strand units, the wholesale price drops to $5.50 a unit. The suggested retail is $12 to $15.
A 50 strand pack provides enough strands for four to five heads. This package wholesales for $9, and suggested retail is $18. A 100 strand pack, called the stylist package, can accommodate eight to 10 heads. It wholesales for $15 and has a suggested retail price of $30. Some buyers, such as flea market vendors, can use this package to give customers Bling Strands and charge as much as $2 per strand, or between $20 and $30 per head. The minimum order is $100 and can contain a mix of Bling Strands packages.
For more information:
Bling Strands
63 East 11400 South, Ste. 222
Sandy, UT 84070
Tel.: 801-759-4291
Fax: 801-545-0996
Website: www.blingstrands.com
Entire contents ©2023, Sumner Communications, Inc. (203) 748-2050. All rights reserved. No part of this service may be reproduced in any form without the express written permission of Sumner Communications, Inc. except that an individual may download and/or forward articles via e-mail to a reasonable number of recipients for personal, non-commercial purposes.