INDEPENDENT RETAILER magazine is now the official news outlet for Wholesale Central visitors. Each monthly issue is packed with new product ideas, supplier profiles, retailing news, and business strategies to help you succeed.

See new articles daily online at IndependentRetailer.com.
CELLULAR JEWELRY utilizes a patented technology that can detect a radio frequency in the air and convert what would be a cell phone ring into a blinking light. The company currently offers this technical capability in bracelets and pens.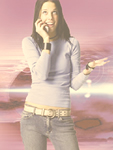 The bracelets and pens were initially developed for children in school, because if a cell phone rings there, the phone is often taken from the child. They won immediate favor with the hard of hearing, and their popularity is now widespread, available for anyone and everyone who is in a situation where a cell phone ring is forbidden or restricted.
There is no need to turn cell phones off in the theater, at sports games, during meetings, or on public transportation. The phone remains on, and the user is immediately alerted when a call comes in. Cellular Jewelry's bracelets and pens are also ideal anywhere that it's too noisy to hear the phone ring.
The units have a three foot range, and they do not emit a false reading from other people's phones. The units also work with pagers and home wireless phones. The bracelet is an attractive stretch style that has a silver box with hearts on it. One size fits all, and it comes in a choice of four colors. The pen is metal, and, in addition to its cell phone blinking function, it is a real pen with black ink, and it has a built in LED flashlight, which can also be used as a stylus on a display board.
The company requires a minimum order of $100, and it can include a mix of bracelets and pens. The bracelets wholesale for $9 a unit, and the suggested retail price is $20 a unit. The pens wholesale for $5 a unit, and suggested retail price is $10 a unit.
The company is set to introduce a universal flashing case that will fit all large size ipods and work with ipods, cell phones and pagers. It will feature three ways of using it: with a clip that attaches to belt loops, a neck strap or a clip for backpacks. More than 40 additional products using this technology are under development.
For more information, contact:
Cellular Jewelry
6303 Owensmouth Avenue 10th Floor
Woodland Hills, CA 91367
Toll free: 800-699-9291
Tel.: 818-936-3392
Fax: 818-757-7754
Website: www.cellularjewelry.com
Entire contents ©2023, Sumner Communications, Inc. (203) 748-2050. All rights reserved. No part of this service may be reproduced in any form without the express written permission of Sumner Communications, Inc. except that an individual may download and/or forward articles via e-mail to a reasonable number of recipients for personal, non-commercial purposes.