INDEPENDENT RETAILER magazine is now the official news outlet for Wholesale Central visitors. Each monthly issue is packed with new product ideas, supplier profiles, retailing news, and business strategies to help you succeed.

See new articles daily online at IndependentRetailer.com.
COOL FEET AND CO. is expanding its line of Down-Unders, which are strapless sandals that adhere to the bottom of the foot. A new version with a thicker sole and built in arch support is under way, and will be offered in the same extensive line of patterns and colors available in the original Down-Unders line.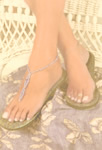 All Down-Unders utilize a proprietary adhesive that keeps the sandals securely on feet and leaves no residue. They should be worn on clean feet that have no lotion or oil on the bottom and have not been washed with a soap that contains lotion or oil.
Down-Unders can be cleaned with soap and water and air dried, which rejuvenates the adhesive, and the sandals last for years, retaining their skin hugging characteristic. An anti bacterial soap is recommended. They come in about 60 different colors and patterns, including Hawaiian and other tropical prints. They come with a clear, protective coating that can be disposed of before wearing. The sandals can be stored in a zip lock freezer bag. They will stick to the bag, but can be peeled off with no loss of their adhesive characteristic.
They come in small, medium and large sizes. The small fits shoe sizes from 4.5 to 6.5. The medium fits shoe sizes from 7 to 8.5, and the large, especially designed for men, fits shoe sizes from 9 to 11.5.
The minimum order requirement is 50 pairs, which can include an assortment of colors, patterns and sizes. The original Down-Unders have a wholesale price of $5 per pair, and the suggested retail price is $12 per pair, or two pair for $22, three pair for $30, which encourages customers to buy more than one pair. The new, thicker sole units will carry a slight premium wholesale, and command a higher retail price.
For more information, contact:
Cool Feet and Co.
2531 550th Avenue
Sabula, IA 52070
Tel.: 563-249-3613
Website: www.wholesalecentral.com/coolfeet
Entire contents ©2022, Sumner Communications, Inc. (203) 748-2050. All rights reserved. No part of this service may be reproduced in any form without the express written permission of Sumner Communications, Inc. except that an individual may download and/or forward articles via e-mail to a reasonable number of recipients for personal, non-commercial purposes.