INDEPENDENT RETAILER magazine is now the official news outlet for Wholesale Central visitors. Each monthly issue is packed with new product ideas, supplier profiles, retailing news, and business strategies to help you succeed.

See new articles daily online at IndependentRetailer.com.
ANNABELLE NOEL DESIGNS introduces The Blossom Crown, a bendable, shapeable wire grid in the form of a flower that fits over the top of a vase. Decorative and functional, The Blossom Crown has colorful beads that dangle from the outside top of the vase while the grid holds flowers upright.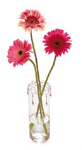 Cut flower stems are inserted into the vase through the holes in The Blossom Crown. It holds them together and prevents them from flopping. It makes just a few flowers look more decorative than they would if they were not given this lift.
The Blossom Crown is available in four different sizes: four, five, six and eight inch. The larger units can be adapted to fit smaller vases.
The wholesale price is $6 for the smallest size, $8 for the five inch unit, $10 for the six inch size, and $12 for the largest, eight inch unit. Their corresponding suggested retail prices are $12.95, $16.95, $20, and $23.99 per unit respectively.
There is no minimum order. However, a wrought iron display stand is offered free with an order of 24 units of The Blossom Crown in any mix of sizes. The displayer contains a picture showing The Blossom Crown unit in use. It holds more than 24 units.
For more information, contact:
Annabelle Noel Designs
1111 Godfrey Avenue SW, Ste. N290
Grand Rapids, MI 49503
Toll Free: 866-886-9901
Tel.: 616-452-6901
Fax: 616-452-6906
Website: www.blossomcrown.com
Entire contents ©2021, Sumner Communications, Inc. (203) 748-2050. All rights reserved. No part of this service may be reproduced in any form without the express written permission of Sumner Communications, Inc. except that an individual may download and/or forward articles via e-mail to a reasonable number of recipients for personal, non-commercial purposes.