INDEPENDENT RETAILER magazine is now the official news outlet for Wholesale Central visitors. Each monthly issue is packed with new product ideas, supplier profiles, retailing news, and business strategies to help you succeed.

See new articles daily online at IndependentRetailer.com.
ISA-BELES TOTAL MAKEOVER INC. offers a line of Body Shapers, which are compression girdles that are made of a surgical fabric that plastic surgeons recommend after liposuction, body tucks and similar procedures. The 12 Body Shaper designs are created to shape and actually reduce weight in key areas of the body.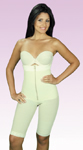 Body Shapers are exclusive to this company and were designed by the owner, Isabel Salazar. While they shape the body in a designated area immediately, they also make the wearer full, so she eats smaller portions, and they also cause her to perspire, further reducing weight. They are lined with cotton to absorb perspiration, they don't itch and have no odor.
Body Shapers are to be worn five days a week, seven hours a day. They can be washed by hand and should be washed twice a week. They cannot be put in a dryer, so users are urged to buy two identical units.
To maximize the products' benefits, Salazar recommends that wearers eat a full breakfast and lunch and a very small salad for dinner. She also urges wearers to walk 50 minutes a day.
Because Body Shapers mold the body immediately, they can instantly reduce the waist by as much as eight inches. Salazar herself says she lost 30 pounds in three and a half months, and went from a size eight to a size zero. Full instructions come with each unit.
The minimum order is 12 units, and can be an assortment of styles and sizes. The company will guide retailers to a selection of best selling designs and sizes, depending on their market and clientele. Wholesale prices range from $25 for a shorts design that focuses on lifting buttocks, to $47 for a full body unit. Their respective suggested retail prices are $50 and $90.
For more information, contact:
Isa-beles Total Makeover Inc.
2379 Coral Way
Coral Gables, FL 33145
Tel.: 305-860-2001
Fax: 305-860-3005
Website: www.instantlipo.com
Entire contents ©2022, Sumner Communications, Inc. (203) 748-2050. All rights reserved. No part of this service may be reproduced in any form without the express written permission of Sumner Communications, Inc. except that an individual may download and/or forward articles via e-mail to a reasonable number of recipients for personal, non-commercial purposes.