INDEPENDENT RETAILER magazine is now the official news outlet for Wholesale Central visitors. Each monthly issue is packed with new product ideas, supplier profiles, retailing news, and business strategies to help you succeed.

See new articles daily online at IndependentRetailer.com.
JN INTERNATIONAL TRADING CO. offers a collection of decorative bra straps that fit bras from which the original straps can be removed. They come in an L shape that crosses behind the back. There is a D shape in which each strap goes over the shoulder in the traditional way, and an L shape, which is also traditional style, but offered in an alternative material.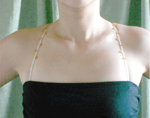 These decorative straps become a fashion accessory, allowing women to wear a bra with apparel that is low cut, bare topped or backless. The collection is offered in more than 20 different colors and hundreds of different beaded, colored stones and rhinestone designs. The units are available in regular, junior and older person's sizes and styles.
The minimum order is between $350 and $400, depending on the styles and where the order is shipped. It can contain an assortment of sizes and styles. On orders that contain a minimum of four dozen Y shape units or five dozen D shape units.
For more information, contact:
JN International Trading Co.
606 Monterey Pass Road, Ste. 218
Monterey Park, CA 91754
Tel.: 323-888-1107
Fax: 323-726-2568
Website: www.jnintlusa.com
Entire contents ©2021, Sumner Communications, Inc. (203) 748-2050. All rights reserved. No part of this service may be reproduced in any form without the express written permission of Sumner Communications, Inc. except that an individual may download and/or forward articles via e-mail to a reasonable number of recipients for personal, non-commercial purposes.