INDEPENDENT RETAILER magazine is now the official news outlet for Wholesale Central visitors. Each monthly issue is packed with new product ideas, supplier profiles, retailing news, and business strategies to help you succeed.

See new articles daily online at IndependentRetailer.com.
SPORTS BRAND INC. introduces stainless steel BBQ branding irons that put a personal touch on outdoor summer dinners. They are 17.5 inches long and come in designs that cover 48 different colleges and seven generic imprints.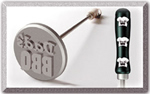 The college logos include the big 12 and the big 10. Among the most popular are the Texas Longhorns, the Pitt logo and another from Duke. The most popular of the generic branding iron prints are Dad's BBQ and Road Kill. The latter has the print of a tire tread separating the two words. The other generics include: Mom's Cookin', and a Smiley face. There is a 12 piece minimum, and retailers can mix and match the designs. A countertop display unit comes free with the order. The wholesale price on this order is $15, and the suggested retail is $29.95. The company also offers a line of complementary products. It is collegiate grill covers that carry the same logos as the branding irons. The covers are of heavy duty vinyl with a flannel lining. There is a drawstring, which makes them capable of fitting nearly all popular outdoor grills. These are offered at a minimum of six assorted designs. The wholesale price is $20, and the suggested retail price is $39.95. For more information, contact:
Sports Brand Inc.
P.O. Box 2056
Topeka, KS 66601
Tel.: 816-569-3193
Fax: 816-741-3314
Website:
www.sportsbrandinc.com
Entire contents ©2022, Sumner Communications, Inc. (203) 748-2050. All rights reserved. No part of this service may be reproduced in any form without the express written permission of Sumner Communications, Inc. except that an individual may download and/or forward articles via e-mail to a reasonable number of recipients for personal, non-commercial purposes.