INDEPENDENT RETAILER magazine is now the official news outlet for Wholesale Central visitors. Each monthly issue is packed with new product ideas, supplier profiles, retailing news, and business strategies to help you succeed.

See new articles daily online at IndependentRetailer.com.
PASS CHRISTIAN SOAP COMPANY extends its Bath Confections line with Bubbling Bath Cupcakes. It is a selection of six different solid bubble bath designs that replicate fancy, decorated cupcakes in size and appearance.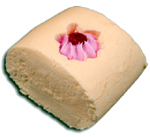 Four of the designs are holiday themed and include "summer fling," "oatmeal and honey," "island gold," and "vanilla cream." The other two designs are "lemondrop" and "apricot freesia." The colors and fragrances are reflected in their names. Decorations include elaborate designs and sparkles. Simply put one of these cupcakes under a bathtub faucet. A fizzing action begins as foam forms in the tub, and fragrance wafts through the room as the cupcake dissolves.
Bubbling Bath Cupcakes come individually bagged or individually gift boxed. The units that are packaged in a bag wholesale for $3.25 each, and suggested retail price is $6.50. Those packaged in decorative gift boxes wholesale for $4.65, and suggested retail price is between $9.30 and about $9.50.
The company requires a minimum opening order of $400, which can include an assortment of all products by Pass Christian Soap Company, including anything in the extensive Bath Confections line. The minimum for reorders is $100, and it can also contain an assortment of products.
For more information, contact:
Pass Christian Soap Company
6845 Highway 90, Ste. 105-305
Daphne, AL 36526
Tel.: 251-621-6677
Toll Free Fax: 800-878-9591
Website: www.passsoap.com
Entire contents ©2023, Sumner Communications, Inc. (203) 748-2050. All rights reserved. No part of this service may be reproduced in any form without the express written permission of Sumner Communications, Inc. except that an individual may download and/or forward articles via e-mail to a reasonable number of recipients for personal, non-commercial purposes.