INDEPENDENT RETAILER magazine is now the official news outlet for Wholesale Central visitors. Each monthly issue is packed with new product ideas, supplier profiles, retailing news, and business strategies to help you succeed.

See new articles daily online at IndependentRetailer.com.
YULE A GO-GO has combined a dozen familiar holiday songs with professional burlesque dancers on a DVD with a roaring fireplace background. Yule A Go-Go comes in a two disc set that includes a DVD and music only CD in a double embossed case of red, silver and green foil.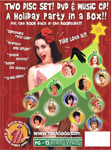 The dancers own a burlesque company in New York, and the musical arrangements are by Brian, "The Fisherman," Lease, known as a staple in the burlesque, lounge and tiki worlds. The dance numbers are filmed by professionals and the women are beautifully costumed in holiday attire.
Among the songs are Jingle Bells by a dancer in a reindeer costume, and, "I Have a Little Driedel." It is described as classic burlesque, "PG-13 for Pasties and G-strings and 13 hot ladies," designed for adult holiday parties. It also makes a great stocking stuffer.
The minimum order is $10 units. The wholesale price is $11.95. On orders of 21 to 100 units, the wholesale is $10.95, and continues to decline in increments to as little as $7.95 on orders of 100,000 units or more. Suggested retail is $19.95.
For more information, contact:
Yule A Go-Go
450 Sixth Avenue Unit 5C
New York, NY 10011
Tel.: 347-374-3311
Website: www.yuleagogo.com
Entire contents ©2022, Sumner Communications, Inc. (203) 748-2050. All rights reserved. No part of this service may be reproduced in any form without the express written permission of Sumner Communications, Inc. except that an individual may download and/or forward articles via e-mail to a reasonable number of recipients for personal, non-commercial purposes.