INDEPENDENT RETAILER magazine is now the official news outlet for Wholesale Central visitors. Each monthly issue is packed with new product ideas, supplier profiles, retailing news, and business strategies to help you succeed.

See new articles daily online at IndependentRetailer.com.
USAOPOPY INC. has released CLUE: 24 Edition, a game based on the Fox TV series featuring the Counter Terrorist Unit (CTU) field office in Los Angeles and Jack Bauer, its director of field operations. Players are challenged to solve a mystery and prevent a catastrophic attack on the U.S.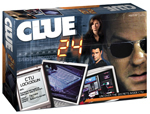 Under the game premise, the attack will be initiated from within the CTU office, where six agents, one of which is a mole/infiltrator, are in lock down, and Bauer must provide them with intelligence from outside using his PDA. The traditional Clue game is transformed into a blueprint of the CTU. The game includes eight clock cards, each representing three hours, for a total of 24 hours, and the mystery must be solved in 24 hours.
During the game, the six agents must reveal who the mole is, what kind of attack is planned, and where inside the CTU it will take place. If the eighth card is drawn during play, the mole attack is successful and the agents and Bauer have failed. CLUE: 24 Edition is a collector's edition, appropriate for people aged nine and older. It is targeted especially to fans of previous Clue games and to fans of 24.
The minimum order is six units. The wholesale cost is $20, and the suggested retail price is $34.95. USAopoly's CLUE: 24 Edition is made under license from Hasbro and Twentieth Century Fox licensing and merchandising.
For more information:
USAopoly Inc.
5607 Palmer Way
Carlsbad, CA 92010
Toll Free: 888-876-7659
Tel.: 760-431-5910
Fax: 760-431-5888
Website: www.usaopoly.com
Entire contents ©2022, Sumner Communications, Inc. (203) 748-2050. All rights reserved. No part of this service may be reproduced in any form without the express written permission of Sumner Communications, Inc. except that an individual may download and/or forward articles via e-mail to a reasonable number of recipients for personal, non-commercial purposes.