INDEPENDENT RETAILER magazine is now the official news outlet for Wholesale Central visitors. Each monthly issue is packed with new product ideas, supplier profiles, retailing news, and business strategies to help you succeed.

See new articles daily online at IndependentRetailer.com.
Bill Venezia, entrepreneur and inventor, has invented Can Hugger, a device that lifts the ring on cans with pull tops and also grips the can while it's being opened, keeping fingers and hands out of harm's way. Simply pry up the ring tab with Can Hugger's handle, and place Can Hugger over the can with the ring tab facing the handle.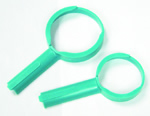 Can Hugger holds the can firm while the top is lifted. It's particularly useful to children and older people that may not have a firm grip, and represents a safety measure for eliminating the cuts and nicks often associated with removing razor sharp lids.
Can Hugger is packaged in sets of two. It accommodates more than 92 percent of all pull top lidded cans on the market, including pet foods, beverage cans, baby food, snacks, dips, soups and more.
There is no minimum order requirement. The wholesale cost is approximately $1 per two unit set, depending on the size of the order. Suggested retail price is in the range of $2.50 a set.
For more information, contact:
Bill Venezia
1622 Valencia Drive West
Largo, FL 33778
Tel.: 727-585-0519
Website: www.marketwatchers.com/venezia
Entire contents ©2023, Sumner Communications, Inc. (203) 748-2050. All rights reserved. No part of this service may be reproduced in any form without the express written permission of Sumner Communications, Inc. except that an individual may download and/or forward articles via e-mail to a reasonable number of recipients for personal, non-commercial purposes.