INDEPENDENT RETAILER magazine is now the official news outlet for Wholesale Central visitors. Each monthly issue is packed with new product ideas, supplier profiles, retailing news, and business strategies to help you succeed.

See new articles daily online at IndependentRetailer.com.
SANFORD MANUFACTURING provides distinctive decorative clocks that are made of quarter inch oak laminate plywood, laser cut into silhouetted designs. The designs occupy what begins as an 11 inch circle of the wood composite, and the actual design is laser cut from that board.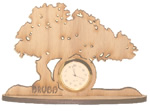 The two current designs are an eagle and the familiar, "End of the Trail," design of a horse and rider exiting battle. Two additional designs are stocked that are specific to Texas. One is a longhorn head, with the Star of Texas cut out from the center, and the other is the silhouette of the state of Texas, with the star etched from the center.
The clock works are all made in America. All the designs are created by hand, and custom designs are available. Additional designs are being added.
The minimum order is $50, and can include an assortment of designs. Credit cards are accepted. The wholesale price varies from $7 to $12 per unit, depending on the intricacy of the design. The suggested retail prices range from $13.95 to $23.95 a unit.
For more information, contact:
Sanford Manufacturing
P. O. Box 287
Sanford, TX 79078
Tel.: 806-865-3107
Fax: 806-865-3108
Website: www.sanfordmfg.com
Entire contents ©2021, Sumner Communications, Inc. (203) 748-2050. All rights reserved. No part of this service may be reproduced in any form without the express written permission of Sumner Communications, Inc. except that an individual may download and/or forward articles via e-mail to a reasonable number of recipients for personal, non-commercial purposes.