INDEPENDENT RETAILER magazine is now the official news outlet for Wholesale Central visitors. Each monthly issue is packed with new product ideas, supplier profiles, retailing news, and business strategies to help you succeed.

See new articles daily online at IndependentRetailer.com.
MIDWEST DOLLAR SUPPLY allows retailers to latch onto the increasingly popular trend of bringing bamboo into homes. It offers a comprehensive line of bamboo stalks in various designs and sizes.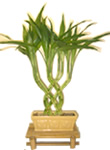 Straight, single stalks, for example, are offered in sizes from four inches to 18 inches tall. There are spiral designs ranging from six to 24 inches tall. There are also a variety of specially braided stalks, twisted styles and new trellis shape designs.
Bamboo stalks have ancient meaning. Three stalks, for example, are said to bring good luck. Five stand for good health. Seven are associated with wealth. This decorating trend requires almost no care, and can be grown in places where other plants won't grow. They can be placed indoors, away from direct sunlight, and only require a lot of water.
This company does not have a minimum order. Units are generally supplied in bundles of 10 units. Midwest can also provide a selection of containers.
Wholesale prices for stalks of bamboo begin at 18 cents for the simplest of units, and reach to $3 for the larger, more complicated ones. Suggested retail prices range from $1 up to $13.99 per unit.
The company also supplies a wide range of novelty products, socks, gloves and other general merchandise.
For more information, contact:
Midwest Dollar Supply
12543 Olive Blvd.
St. Louis, MO 63141
Tel.: 314-469-1990
Fax: 314-469-1995
Website: www.wholesalecentral.com/midwestdollarsupply
Entire contents ©2022, Sumner Communications, Inc. (203) 748-2050. All rights reserved. No part of this service may be reproduced in any form without the express written permission of Sumner Communications, Inc. except that an individual may download and/or forward articles via e-mail to a reasonable number of recipients for personal, non-commercial purposes.