INDEPENDENT RETAILER magazine is now the official news outlet for Wholesale Central visitors. Each monthly issue is packed with new product ideas, supplier profiles, retailing news, and business strategies to help you succeed.

See new articles daily online at IndependentRetailer.com.
CLIPHANGER LLC introduces Cliphanger, a clip designed to fit with any hand held device, such as a cell phone, PDA or iPhone. It keeps that device handy at all times. Cliphanger comes with double sided adhesive tape.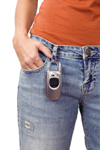 One side of the tape attaches to Cliphanger and the other side adheres to the device. The Cliphanger should be attached so that its integral loop clears the top of the device allowing room for a finger to slip through the loop.
The clip portion of Cliphanger can be hung on a purse, belt, belt loop or backpack, keeping the device handy. It won't drop. It eliminates the need to forage around for a cell phone, and miss a call. The unit comes with a hook accessory that can be attached to a desk, dashboard or other surface for accommodating Cliphanger.
In shape, Cliphanger resembles an over size safety pin. It is made of a sturdy polycarbonate blend, and the adhesive is a high bond material made by 3M. It adheres securely, but can be removed without leaving a trace.
Cliphanger comes in a choice of nine colors: black, smoke, clear, orange, red, pink, purple, blue and teal. It measures approximately 2.5 inches long and an inch wide.
The minimum order is 100 units. In that quantity the wholesale price is $4. The wholesale price declines by volume orders in 100 increments. Suggested retail price is $12.99.
For more information, contact:
Cliphanger LLC
844 West 300 North
Kaysville, UT 84037
Tel.: 972-877-9826
Website: www.cliphanger.com
Entire contents ©2022, Sumner Communications, Inc. (203) 748-2050. All rights reserved. No part of this service may be reproduced in any form without the express written permission of Sumner Communications, Inc. except that an individual may download and/or forward articles via e-mail to a reasonable number of recipients for personal, non-commercial purposes.