INDEPENDENT RETAILER magazine is now the official news outlet for Wholesale Central visitors. Each monthly issue is packed with new product ideas, supplier profiles, retailing news, and business strategies to help you succeed.

See new articles daily online at IndependentRetailer.com.
SPERRY MANUFACTURING introduces Stadium Zoomz sunglasses and night vision glasses, and Stadium Zoomz Max, all of which are designed to zero in on action at sporting events. All are lightweight and comfortable eyewear, and each comes individually packaged in boxes that illustrate its ability to magnify events taking place at a distance.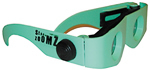 Stadium Zoomz sunglasses and night vision units have a 3X magnification. The sunglasses are designed for outdoor sporting events, and the night vision version is designed for use in indoor stadiums and can also be used to magnify TV screens.
The minimum order for these units is a dozen, and can include six of each type. The wholesale cost is $4.95 each. With volume, the wholesale price decreases to as little as $3.85 on orders of 480 units or more. The suggested retail price is $19.95.
Stadium Zoomz Max has just been added to the line. It is more powerful, with 4X magnification, and can be used indoors and outdoors. It is packaged in a clear clamshell and includes a carrying pouch. The wholesale price starts at $5.95, and suggested retail is $19.95 to $24.95.
The Stadium Zoomz series was designed for and is exclusive to Sperry Manufacturing.
For more information, contact:
Sperry Manufacturing
107 Corporation Way
Venice, FL 34285
Tel.: 941-483-4667 and for orders: 941-681-2297
Fax: 941-483-3138
Website: www.stadiumzoomz.com
Entire contents ©2022, Sumner Communications, Inc. (203) 748-2050. All rights reserved. No part of this service may be reproduced in any form without the express written permission of Sumner Communications, Inc. except that an individual may download and/or forward articles via e-mail to a reasonable number of recipients for personal, non-commercial purposes.