INDEPENDENT RETAILER magazine is now the official news outlet for Wholesale Central visitors. Each monthly issue is packed with new product ideas, supplier profiles, retailing news, and business strategies to help you succeed.

See new articles daily online at IndependentRetailer.com.
TELEBRANDS introduces Fish Pen, a Coleman brand fully functional fishing rod that is the size of a writing pen and looks like one, too. It can clip onto a pocket, ever ready for a quick lunchtime fishing break, and easy to carry anywhere.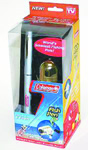 The Coleman Fishpen fishing rod telescopes out to three feet and includes a casting reel, which has been engineered with a brass finish to perform reliably and conveniently. The outside is aluminum with a brushed steel look, and the rod is of a durable composite material.
It comes complete with everything needed to start fishing. That includes a starter tackle kit with hooks, line, weights and bobbers. The retail packaging carries the Coleman logo, widely recognized among sports enthusiasts for quality and reliability. It contains a coupon for obtaining a handy zippered pouch, available to carry the complete kit, and offered free with a small shipping charge.
The Coleman Fishpen is being advertised on national television. The minimum order is a case of six units for $123, which includes free shipping and translates to $20.50 wholesale per unit. Suggested retail is $39.99.
For more information, contact:
Telebrands
One Telebrand Plaza
Fairfield, NJ 07004
Toll Free: 800-914-1111
Tel.: 973-244-0300
Fax: 973-244-9405
Website: www.telebrandswholesale.com and www.fishpen.com
Entire contents ©2021, Sumner Communications, Inc. (203) 748-2050. All rights reserved. No part of this service may be reproduced in any form without the express written permission of Sumner Communications, Inc. except that an individual may download and/or forward articles via e-mail to a reasonable number of recipients for personal, non-commercial purposes.