INDEPENDENT RETAILER magazine is now the official news outlet for Wholesale Central visitors. Each monthly issue is packed with new product ideas, supplier profiles, retailing news, and business strategies to help you succeed.

See new articles daily online at IndependentRetailer.com.
ABRIM ENTERPRISES INC. (AEI) has introduced the Rainbow Color Changing Candle. The units are made of purified paraffin wax and contain two lithium batteries.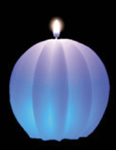 This combination utilizes micro electric technology to continuously change the color of the candle once it is lighted. When lit, an LED chip encased in the base of the candle is signaled by a fiber optic sensor. The chip is programmed to continuously change colors every few seconds.
The colors change from purple to blue to green to red, and back to purple again. The candle and batteries last for 18 to 24 hours, and the candle is not supposed to be lighted for more than three hours at any one time.
Rainbow Color Changing Candle is offered in three sizes. The most popular pillar candle is 3.5 inches high and 2.5 inches wide. There is no minimum order and retailers can get a single sample. The wholesale cost is $2.50, and the suggested retail price is $8.99.
For more information, contact:
Abrim Enterprises Inc. (AEI)
3940 59th Street
Woodside, NY 11377
Tel.: 718-672-7744
Fax: 718-672-4496
Website: www.aei-international.com
Entire contents ©2022, Sumner Communications, Inc. (203) 748-2050. All rights reserved. No part of this service may be reproduced in any form without the express written permission of Sumner Communications, Inc. except that an individual may download and/or forward articles via e-mail to a reasonable number of recipients for personal, non-commercial purposes.