INDEPENDENT RETAILER magazine is now the official news outlet for Wholesale Central visitors. Each monthly issue is packed with new product ideas, supplier profiles, retailing news, and business strategies to help you succeed.

See new articles daily online at IndependentRetailer.com.
FAP FOOTWEAR introduces Crayola Color Me Flip Flops, flip flops for children that come with three Crayola brand markers and have whimsical outlines that kids can color. The markers are permanent, and they will not wash off or stain the child's feet.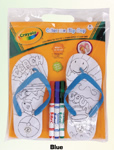 Designed as a craft project as well as a fashion statement, Crayola Color Me Flip Flops come in a choice of four different color bands: pink, blue, green and yellow. They come in small, medium and large, and will fit children up to about age six.
The units are individually packaged in see-through bags, suitable for pegboard display. The minimum order is $200, and can include an assortment of any of the products offered by FAP Footwear, as well as a mix of the new flip flops.
Crayola Color Me Flip Flops wholesale for $4.75, and the suggested retail price is $9.99 a pair.
For more information, contact:
FAP Footwear
15180 Nautique Way
Houston, TX 77047
Toll Free: 800-747-2633
Tel.: 713-434-7463
Fax: 713-434-5443
Website: www.fapshoes.com
Entire contents ©2022, Sumner Communications, Inc. (203) 748-2050. All rights reserved. No part of this service may be reproduced in any form without the express written permission of Sumner Communications, Inc. except that an individual may download and/or forward articles via e-mail to a reasonable number of recipients for personal, non-commercial purposes.