INDEPENDENT RETAILER magazine is now the official news outlet for Wholesale Central visitors. Each monthly issue is packed with new product ideas, supplier profiles, retailing news, and business strategies to help you succeed.

See new articles daily online at IndependentRetailer.com.
NEW LEAF TRADING introduces Hair Twirlz, a novel and fun way of accessorizing hair with twists of color. Hair Twirlz are made of a malleable, stretchable clay polymer that is wound into strands of twirls that are durable and bouncy. They come in 36 different colors, and new ones are being added all the time, to include team and school colors. There are two sizes: five and nine inch. The five inch units are wholesaled in packs of a dozen of a single color. The nine inch version comes in a package of four units of the same color.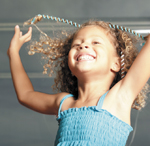 The five inch packs wholesale for $24 for a dozen packs, each containing a dozen Hair Twirlz. The suggested retail price for a five inch unit is $7. Packs of four, nine inch units wholesale for $14. The suggested retail price is $12 per unit. At retail, Hair Twirlz are sold singly, so consumers can pickup a multiple of colors.
New Leaf Trading has assembled three starter packs for retailers. The smallest wholesales for $150, and contains five dozen of the five inch packs, each containing a dozen Hair Twirlz; also three packs of nine inch Hair Twirlz, each containing four units, plus two black merchandising trays and one tray insert. The trays provide retailers with a platform for displaying Hair Twirlz and an array of their colors. The insert has seven compartments for holding seven different colors of the five inch Hair Twirlz. The retail return from this starter pack is a hefty $564.
The second starter pack wholesales for $499. It contains 18 dozen five inch packages, nine of the nine inch packages, six trays and three inserts. The retail return is $1,944. The third starter pack, designed for retailers who work at crafts shows or other venues, wholesales for $1,499. It contains 60 dozen of the five inch packs, 20 packages of the nine inch packs, 15 trays and nine tray inserts. The retail return is just over $6,000.
For more information:
New Leaf Trading
1720 Harrison Street
Hollywood, FL 33020
Toll Free Tel./Fax: 888-982-7662
Tel.: 954-362-9937
Website: www.newleaftrading.com
Entire contents ©2022, Sumner Communications, Inc. (203) 748-2050. All rights reserved. No part of this service may be reproduced in any form without the express written permission of Sumner Communications, Inc. except that an individual may download and/or forward articles via e-mail to a reasonable number of recipients for personal, non-commercial purposes.