INDEPENDENT RETAILER magazine is now the official news outlet for Wholesale Central visitors. Each monthly issue is packed with new product ideas, supplier profiles, retailing news, and business strategies to help you succeed.

See new articles daily online at IndependentRetailer.com.
KEY SPORTSWEAR carries a full line of Undergard brand compression underwear for men, women and children. Made of a fabric that wicks away body moisture and compresses muscles, these under garments keep people warm and dry in winter and cool in summer.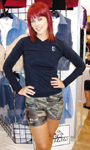 They also prevent muscle strain. Among those who wear them are members of the armed forces and the Navy Seals.
This company carries long and short sleeve T-shirts, shorts, tights, basketball cut shirts and sports bras in solid colors and camouflage prints. The women's apparel is specifically made to fit females and come in small, medium, large and extra large. Children's units come in all four sizes, and the men's come in these sizes and in double XL. Solid colors in inventory are black, white and navy. Other colors are available on large orders.
The minimum order is $100. It can include an assortment of styles, sizes and colors. As an example of pricing, a men's long sleeve shirt wholesales for $13.95. Suggested retail price is about $25. A basketball cut children's shirt wholesales for $8.95, and has a suggested retail price of about $15. Women's tights wholesale for $13.95 and have a suggested retail price in the $15 range.
For more information, contact:
Key Sportswear dba Undergard
59-00 Decatur Street
Ridgewood, NY 11385
Toll Free: 800-428-4665
Tel.: 718-417-7150
Fax: 718-417-7101
Website: www.undergard.com
Entire contents ©2021, Sumner Communications, Inc. (203) 748-2050. All rights reserved. No part of this service may be reproduced in any form without the express written permission of Sumner Communications, Inc. except that an individual may download and/or forward articles via e-mail to a reasonable number of recipients for personal, non-commercial purposes.