INDEPENDENT RETAILER magazine is now the official news outlet for Wholesale Central visitors. Each monthly issue is packed with new product ideas, supplier profiles, retailing news, and business strategies to help you succeed.

See new articles daily online at IndependentRetailer.com.
LONGVIEW FARMS, the world's largest producer of fully refined, 100 percent pure molecular distilled Emu oil, offers Cool Blue Gel, a proven pain reliever. Initially offered in television infomercials, Cool Blue Gel sold successfully across the country from $24.95 to $29.95 per four ounce unit.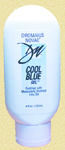 Cool Blue Gel comes in a handy tottle, which is an amalgam of tube and bottle that allows it to stand upright and dispense with a squeeze. The product has proven to achieve a nearly 80 percent record of relieving pain associated with muscle strains and joint pains. It comes with a money back guarantee.
Now, the same product is available to smaller retailers as well as larger retailers and wholesalers, without large volume inventory requirements. An introductory special is offered to smaller retailers at a wholesale price of $100. This special package contains 12 units, plus 24 trial size units for purse or pocket, that hold one or two applications each. It has a retail value of more than $350.
Wholesale pricing begins at $6.50 a unit on orders of 12; decreases to $6 on orders of 13 to 24, and continues to decline with volume. On orders of 72 to 143, the wholesale price is $4.60 each. Buyers of 576 or more pay $3.95 a unit.
The suggested retail price is $24.95. However, management points out that retailers can gain a substantial margin by selling Cool Blue Gel between $14.95 and $19.95 each.
Distributors of Cool Blue Gel can purchase other Longview Farms personal products at standard wholesale prices. The minimum order is $100, and orders containing Cool Blue Gel and other Longview Farms products qualify for free shipping and handling.
For more information, contact:
Longview Farms
525 East Fifth Street
Bloomsburg, PA 17815
Toll Free: 877-266-5241
Tel.: 570-380-1077
Fax: 570-380-1078
Websites: www.coolbluegel.com
Entire contents ©2023, Sumner Communications, Inc. (203) 748-2050. All rights reserved. No part of this service may be reproduced in any form without the express written permission of Sumner Communications, Inc. except that an individual may download and/or forward articles via e-mail to a reasonable number of recipients for personal, non-commercial purposes.