INDEPENDENT RETAILER magazine is now the official news outlet for Wholesale Central visitors. Each monthly issue is packed with new product ideas, supplier profiles, retailing news, and business strategies to help you succeed.

See new articles daily online at IndependentRetailer.com.
WICKOOLER LLC introduces a patented beverage can cooler, WicKooler, that has pockets to hold other valuables and also has attitude in the form of a humorous message printed on the side. WicKooler is made of rubbery foam that keeps drinks cool, and it can hold a beer or soda can or a 12 ounce cup.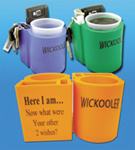 The two side pockets include a larger one, big enough to hold a pack of cigarettes or a cell phone, and a smaller pocket that can hold a lighter, credit card, cash and keys. The pockets are tapered for a snug fit, making it ideal for boaters, pool swimmers, joggers, party goers and others. WicKooler comes in a choice of five colors: yellow, orange, blue, green and red. Three additional colors, black, white and purple, will soon be added. Among the printed messages are: "Vegetarian: Old Indian word for bad hunter," "It's all fun and games until you run out of beer," and, "Here I am. What are your other two wishes." The minimum order for first time buyers is a case of 12, which includes two yellow, three orange, two red, three blue and two green, and they carry a total of 12 different printed messages. On the minimum order, the wholesale price is $3.25 a unit, and the suggested retail price is $4.99 or $5.99. For display, there is a pop-up unit that sticks out of the store's cooler, illustrating WicKooler and how it works. For more information, contact:
WicKooler LLC
11170 Guernsey Avenue
Chaska, MN 55318
Tel.: 952-448-4772
Fax: 952-448-7188
Website:
www.wickooler.com
Entire contents ©2023, Sumner Communications, Inc. (203) 748-2050. All rights reserved. No part of this service may be reproduced in any form without the express written permission of Sumner Communications, Inc. except that an individual may download and/or forward articles via e-mail to a reasonable number of recipients for personal, non-commercial purposes.