INDEPENDENT RETAILER magazine is now the official news outlet for Wholesale Central visitors. Each monthly issue is packed with new product ideas, supplier profiles, retailing news, and business strategies to help you succeed.

See new articles daily online at IndependentRetailer.com.
JACPA INTERNATIONAL has nearly 100 different items in the form of skulls. The majority are made of polyresin, while a few are ceramic. All are hand painted and designed in the U.S. They include four different sizes, with the smallest about two inches and the largest approximately nine inches. The most popular are the five inch units. These skulls can be used as ash trays, candy dishes, coin holders and a variety of other uses, including sheer decoration. There are also skull mugs and steins and skull incense burners, which can be paired with Jacpa's Nose Desserts incense line.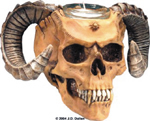 The designs in the skull series cover a range of popular themes. There are, for example, clowns, jokers, demons, pirates, tribal figures, skulls and rebels. There is even a Jesus skull with a crown of thorns, and a replica of a human skull, which is completely anatomically correct.
The minimum order is $50, and can include an assortment of all products, including items in the skull series and any variety of Nose Desserts stick incense and fragrance oils. There is a variety of Nose Desserts merchandising packages. All of Jacpa's products are shown at its website, and orders can be placed online. The skulls' wholesale prices range from $4 to $12.50, depending on size and design. The suggested retail price is double wholesale, plus each unit's proportion of the freight cost.
For more information, contact:
Jacpa International
D/ba Nose Desserts Incense
416 South Clare Avenue
Harrison, MI 48625
Toll Free: 800-477-7004
Tel.: 989-539-9026
Website: www.nosedesserts.com
Entire contents ©2023, Sumner Communications, Inc. (203) 748-2050. All rights reserved. No part of this service may be reproduced in any form without the express written permission of Sumner Communications, Inc. except that an individual may download and/or forward articles via e-mail to a reasonable number of recipients for personal, non-commercial purposes.