INDEPENDENT RETAILER magazine is now the official news outlet for Wholesale Central visitors. Each monthly issue is packed with new product ideas, supplier profiles, retailing news, and business strategies to help you succeed.

See new articles daily online at IndependentRetailer.com.
95° & SUNNY INC. carries a line of crystal glass manicure files that are available with more than 100 different hand painted designs. The files are imported from the Czech Republic, and the designs are applied by a staff of artisans at the company's headquarters in Arizona.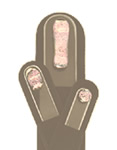 Among the designs are flowers, angels, animals, hearts and butterflies. The type of crystal, called, "float glass," is the same used for wine goblets and vases. It contains no lead, and the filing surface is permanently etched into the glass, ensuring that it will not wear down or wear out.
The files come in a range of sizes. The smallest can be carried in a purse, and the medium is best for manicures. There is a larger one for pedicures, and the largest can be used to smooth cracked heels and calluses. The files can be used on both natural and artificial nails, and leave a smooth surface that reduces incidents of chipping, peeling and splitting.
Files are non porous and tempered and hardened. Salons can provide them with 100 percent sanitization by heat, liquid, UV light or autoclave. The grit is approximately 220, while the large ones have 200 grit. They are board certified in all states and will pass through airport security. Each comes with a protective sheath.
In addition to the hand painted units, there are clear and colored files and units with hand engraving in a variety of designs. The company also offers units with decorations of Swarovski crystals, semi precious stones and hand painted polymer clay handles. Custom designs are also available.
The minimum order is $100, and can include an assortment of open stock designs. Wholesale prices range from $2.50 to $25 a unit, depending on style and size. Suggested retail price is 100 percent over wholesale. Display units are available.
For more information, contact:
95° & Sunny Inc.
7211 East Southern Avenue, Ste. 111
Mesa, AZ 85209
Toll free: 888-953-4537
Tel.: 480-883-3709
Fax: 480-883-6625
Website: www.95andsunny.com
Entire contents ©2023, Sumner Communications, Inc. (203) 748-2050. All rights reserved. No part of this service may be reproduced in any form without the express written permission of Sumner Communications, Inc. except that an individual may download and/or forward articles via e-mail to a reasonable number of recipients for personal, non-commercial purposes.