INDEPENDENT RETAILER magazine is now the official news outlet for Wholesale Central visitors. Each monthly issue is packed with new product ideas, supplier profiles, retailing news, and business strategies to help you succeed.

See new articles daily online at IndependentRetailer.com.
A.J. LEATHER INC. offers fashionable flat wallets and cell phone pouches that are decorated with the retailer's choice of more than 100 different designs of silver and gold plated conchos. The wallets are flat style, shaped like a checkbook, with places for bills, credit cards, ID cards and photos.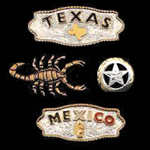 They are made of a synthetic material with a leather look, and come in a choice of solid black, brown or red or 20 different prints, including animal skin designs such as leopard, giraffe and tiger. The cell phone pouches come in black, brown or red, and there are designs and sizes to accommodate all of the major cell phone brands and shapes. There are styles for men and women.
The selection of conchos for the wallets and pouches includes names and symbols of states, stars, western themes, scorpions, depictions of popular destinations, sports and hobbies. A. J. Leather personnel will help guide retailers to the selection of conchos that are best sellers in different regions, and types of stores and markets.
The minimum order is $100, and can include an assortment of all of the company's products, which include leather jackets for men and women, checkbook covers, belts and many styles of wallets. The wholesale cost of the flat wallets and cell phone pouches with conchos is $4. The suggested retail price is $15.
For more information, contact:
A.J. Leather Inc.
11181 Denton Drive # 101
Dallas, TX 75229
Toll Free: 877-922-9222
Tel.: 972-484-8000
Fax: 972-484-9500
Website: www.ajleather.com
Entire contents ©2023, Sumner Communications, Inc. (203) 748-2050. All rights reserved. No part of this service may be reproduced in any form without the express written permission of Sumner Communications, Inc. except that an individual may download and/or forward articles via e-mail to a reasonable number of recipients for personal, non-commercial purposes.