INDEPENDENT RETAILER magazine is now the official news outlet for Wholesale Central visitors. Each monthly issue is packed with new product ideas, supplier profiles, retailing news, and business strategies to help you succeed.

See new articles daily online at IndependentRetailer.com.
DAYCLOCKS introduces the DayClock, sometimes called 7 Day Clock, which represents a whole new concept in looking at and tracking time. It is for those whose days matter more than minutes or hours. One key target market is retirees, the 6,000 baby boomers that turn 65 everyday. But it also makes a great gift for dorms, motor homes and vacation properties, and for anyone that keeps time at a slower pace.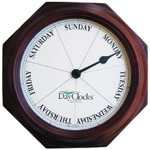 The face of the wall clock is divided into seven segments, and the day hand makes one revolution every 168 hours. The border lines for each day denote midnight, with the midway points at noon. There are four models of DayClocks, and two show the time of day, as well as the day of the week. The Classic DayClock comes framed in a choice of oak or mahogany. It has an approximately nine inch diameter. The wholesale price is $20, and suggested retail is $39.95. The larger Contemporary DayClock, which shows the time of day, is offered in a platinum frame that measures about 13 inches in diameter, and in an oak frame with a nearly 12 inch diameter. Its wholesale price is $25 a unit, and the suggested retail is $49.95. All four versions operate on a single AA battery, which is not included. DayClocks has a design patent on the product and has applied for a patent on the movement. There is no minimum order. On orders of an assortment of 10 units or more, DayClocks pays the shipping. Retailers are provided with brochures that explain the concept, and they have a place where retailers can add their own imprint. For more information, contact:
DayClocks
P.O. Box8268
Incline Village, NV 89452
Toll Free: 866-329-2562
Tel.: 775-853-8222
Fax: 775-831-1055
Website:
www.dayclocks.com
Entire contents ©2022, Sumner Communications, Inc. (203) 748-2050. All rights reserved. No part of this service may be reproduced in any form without the express written permission of Sumner Communications, Inc. except that an individual may download and/or forward articles via e-mail to a reasonable number of recipients for personal, non-commercial purposes.