INDEPENDENT RETAILER magazine is now the official news outlet for Wholesale Central visitors. Each monthly issue is packed with new product ideas, supplier profiles, retailing news, and business strategies to help you succeed.

See new articles daily online at IndependentRetailer.com.
USA DAWGS INC. offers Dawg Tags, an extensive line of charms and other accessories especially designed to decorate its Dawgs line of beach shoes. These decorative charms also fit similar style beach shoes from other manufacturers and have a lace attachment so they can be worn on more traditional sports shoes.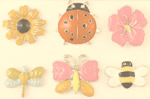 Dawg Tags are high quality charms made of steel with hand painted enamel design motifs. There are approximately 300 different designs, covering animals, flowers, whimsical creatures, butterflies, lady bugs, numbers, letters, popular symbols, a petals series and many more. They can be easily removed, replaced and changed around.
There are Minis for kids Dawgs that are approximately 18 millimeters, and units for adult Dawgs, which range from 20 to 22 millimeters. Styles in top selling licensed characters are currently being added, and, with a minimum order of 200, the company will create custom designs, replicating logos or other themes.
The minimum order of 75 assorted charms comes with a free counter displayer. Retailers can also order from open stock, and all units are packaged for pegboard display.
The minis typically wholesale for $1.25 a unit and have a suggested retail of $3 a unit. The larger size units wholesale for $2 a unit and have suggested retail of $4.
A variety of different display programs are available, ranging from counter displayers to a large display unit that holds all 300 styles.
For more information, contact:
USA Dawgs Inc.
4120 West Windmill Lane Unit 106
Las Vegas, NV 89139
Toll free: 877-663-2947
Tel.: 702-260-1060
Fax: 702-260-1606
Websites: www.usadawgs.com
Entire contents ©2021, Sumner Communications, Inc. (203) 748-2050. All rights reserved. No part of this service may be reproduced in any form without the express written permission of Sumner Communications, Inc. except that an individual may download and/or forward articles via e-mail to a reasonable number of recipients for personal, non-commercial purposes.