INDEPENDENT RETAILER magazine is now the official news outlet for Wholesale Central visitors. Each monthly issue is packed with new product ideas, supplier profiles, retailing news, and business strategies to help you succeed.

See new articles daily online at IndependentRetailer.com.
EVOLVE introduces a series of five different wind chimes imported from India. One is made of black iron, and the other four are tin. They range in size from about nine inches to 30 inches in length.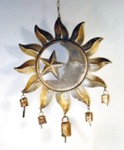 The largest, 30 inch wrought iron wind chime features a series of open heart shapes that form a lattice like frame, and each open shape contains a chime. This wholesales for $7.99 a unit, and the suggested retail price is $15.
One distressed metal design has a weather worn greenish blue color and features a moon and star with hanging chimes. It is 8.5 inches long. The wholesale price is $4.29 a unit, and suggested retail is $9.
Another 8.5 inch design features the pentacle star shape of India. It wholesales for $4.99 and carries a suggested retail price of $10.
One 24 inch long design features outlined patterns of a sun and moon with stars and tiny bells. The wholesale price is $6.49, and suggested retail is $15. A second 24 inch long design is a large sun face with small, handmade dolls dangling off its rays to create chimes. Its wholesale price is $5.99, and the suggested retail is $15. The minimum order is $100, and can include an assortment of designs or other Evolve products.
For more information, contact:
Evolve
22 Canal Street, Ste. 23
Somersworth, NH 03878
Toll Free: 800-869-9134
Tel.: 603-692-4800
Fax: 603-692-9804
Website: www.shopevolve.com
Entire contents ©2021, Sumner Communications, Inc. (203) 748-2050. All rights reserved. No part of this service may be reproduced in any form without the express written permission of Sumner Communications, Inc. except that an individual may download and/or forward articles via e-mail to a reasonable number of recipients for personal, non-commercial purposes.