INDEPENDENT RETAILER magazine is now the official news outlet for Wholesale Central visitors. Each monthly issue is packed with new product ideas, supplier profiles, retailing news, and business strategies to help you succeed.

See new articles daily online at IndependentRetailer.com.
QUEST MARKETING introduces Oops! Disposable Panties. A handy packet that is about the size of a stack of three poker chips contains two pair of disposable women's panties.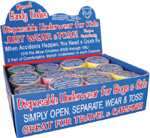 They are made of a breathable, washable fabric and will hold up for about four washings each. They can be kept in a purse, travel bag, beach bag or glove compartment. One size fits most, ranging from five/small to eight/extra large. While the name initially prompts a giggle, people soon discover how handy they are. The panties are comfortable to wear, and there is no panty line. They come in a choice of five colors: white, pink, blue, yellow and green.
The minimum order requirement is a box of 36 units, packed in a displayer that shows how they are used. The wholesale price is 99 cents a capsule, and suggested retail is $1.99, which makes it easy for customers to buy and try on impulse.
Quest is currently producing a national 60 second TV commercial promoting Oops! Disposable Panties. In addition, the company produces, "Handy Undies Disposable Underwear for Kids." A tiny capsule with two pair of child's size unisex briefs. They fit boys and girls size four/extra small through ten/large.
For more information, contact:
Quest Marketing
419A Atkinson Drive, Ste. 504
Honolulu, HI 96814
Tel.: 808-203-0739
Fax: 646-346-7480
Website: www.oopsdisposablepanties.com
Entire contents ©2021, Sumner Communications, Inc. (203) 748-2050. All rights reserved. No part of this service may be reproduced in any form without the express written permission of Sumner Communications, Inc. except that an individual may download and/or forward articles via e-mail to a reasonable number of recipients for personal, non-commercial purposes.