INDEPENDENT RETAILER magazine is now the official news outlet for Wholesale Central visitors. Each monthly issue is packed with new product ideas, supplier profiles, retailing news, and business strategies to help you succeed.

See new articles daily online at IndependentRetailer.com.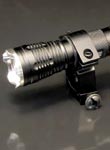 Weiita International Corp. specializes in sporting optics and LED lighting equipment. It recently expanded its offerings by introducing two new products that cater to hunters and diving enthusiasts. "We definitely plan to add new models to both the hunting and diving lines now that we have launched both," says Jane Ji, office manager.
The weatherproof Sparker R1680, designed to suit hunters' needs, uses an ultra bright LED bulb with one mode. This hunting light operates through a pressure switch that offers the user singlehanded control. The light also features a zoom system so that operators can adjust the focus of the beam to be broad or narrow. It includes two rechargeable batteries and a rifle mount that coordinates with nearly any rifle and scope. The Sparker R1680 retails for $80 to $90, though Ji has seen it earn an even higher price in specialty settings.
Weiita's new diving light, the Saurus D1610, is waterproof to 30 feet. It secures to a diver's wrist or belt, with an included strap, and powers on and off with a rotating dial switch. The Saurus D1610 features five different settings, including strobe, three steady beams and an SOS mode unique to the diving series. Its 800-lumen bulb illuminates up to 500 yards in distance, and the rechargeable battery will last up to three hours at maximum intensity. The device's body is crafted of black aluminum alloy and weighs less than one pound, which is a strong selling point for end consumers. The product retails for $100, however, because its bulb is 800 lumens which Ji says is high for a waterproof light, many sellers are able to get a higher price.
Weiita offers bulk discounts calculated by volume, and wholesale pricing is available by contacting the firm directly. All retail buyers must meet the minimum order of $500. "Our customers usually order by the cases, but we will mix and match a variety of different models to encourage customers to test the waters and see what their customers prefer," says Ji.

For more information:
Weiita International Corp.
1185 Edgewater Ave.
Ridgefield, NJ 07657
Tel.: 201-943-0785
Fax: 347-732-4709
Email: info@weiita.com
Website: www.weiita.com


Entire contents ©2023, Sumner Communications, Inc. (203) 748-2050. All rights reserved. No part of this service may be reproduced in any form without the express written permission of Sumner Communications, Inc. except that an individual may download and/or forward articles via e-mail to a reasonable number of recipients for personal, non-commercial purposes.