INDEPENDENT RETAILER magazine is now the official news outlet for Wholesale Central visitors. Each monthly issue is packed with new product ideas, supplier profiles, retailing news, and business strategies to help you succeed.

See new articles daily online at IndependentRetailer.com.
HISTORICAL DOCUMENTS has nearly 1,000 replicas of historical documents, which are produced on heavy parchment and undergo a process that gives them an antique look. The typical standard size is 14 by 16 inches, although some are smaller because of their original format. Many are also offered in poster size.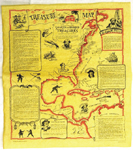 The most popular by far is the Declaration of Independence, followed by the Constitution and the Gettysburg Address. Also among the top ten is a history of flags, a treasure map, confederate currencies and Captain John Smith's map of Virginia, made in 1612. The Minuteman Oath was recently added. There are also many units that are not on the list of overall best sellers, but that sell very well regionally. Among those are tavern menus from New England, the Miner's Ten Commandments, Custer's Massacre, William Penn's treaty with the Indians, Map of Horseshoe Bend, the world's oldest stock certificate and a document denoting the first steam railroad in America, dated 1831. Copies of many state constitutions are also available.
The company has been in business for more than 60 years, and staff helps retailers choose a selection that includes best sellers in particular types of stores and geographic areas. The typical minimum order of a single page document is 36 copies per title. Poster size units are sold in sets of 12 per title. The company is flexible, however, and will go below the minimum for retailers that want to try this product category.
The wholesale cost for a single page document in standard size is 75 cents. The suggested retail is $1.99, and units are sometimes sold for as much as $4.99.
For more information, contact:
Historical Documents
2555 Orthodox Street
Philadelphia, PA 19137
Toll Free: 888-700-7265
Tel.: 215-533-4500
Fax: 215-533-9319
Website: www.historicaldocumentsco.com
Entire contents ©2023, Sumner Communications, Inc. (203) 748-2050. All rights reserved. No part of this service may be reproduced in any form without the express written permission of Sumner Communications, Inc. except that an individual may download and/or forward articles via e-mail to a reasonable number of recipients for personal, non-commercial purposes.