INDEPENDENT RETAILER magazine is now the official news outlet for Wholesale Central visitors. Each monthly issue is packed with new product ideas, supplier profiles, retailing news, and business strategies to help you succeed.

See new articles daily online at IndependentRetailer.com.
ICE CUBES INC. adds dollar sign ice cube trays to its existing line of trays carrying each of the U.S. military service emblems. Each tray measures approximately five by 11 inches and contains 12 "cube" indentations.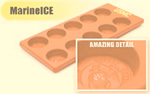 In this case, however, the cubes are in the shape of a dollar sign, and it has clear, clean edges to ensure there is no mistaking the shape. This, like the other trays, is made of polypropylene, and all of the trays are packaged in two tray units.
They can be used to make chocolate, Popsicles, butter patties, jell-o and other edibles, as well as ice cubes. While they're fun for parties, they have also been used to make chocolates for fund raisers, anniversaries and other celebrations.
The trays carrying military service emblems are offered for the Air Force, Army, Navy, Marines and Coast Guard. In each, the emblems are formed in perfect detail within a circle.
The minimum order is one case of 24 units, and can contain an assortment of different tray designs. A display unit is offered free with the first case ordered. The wholesale cost is $4.48 a unit, which contains two trays. The suggested retail price is $9.95 or more, per two tray unit.
For more information, contact:
Ice Cubes Inc.
325-1 Lenoir Drive
Winchester, VA 22603
Tel.: 540-542-1740
Fax: 540-542-0115
Website: www.icecubesinc.com
Entire contents ©2021, Sumner Communications, Inc. (203) 748-2050. All rights reserved. No part of this service may be reproduced in any form without the express written permission of Sumner Communications, Inc. except that an individual may download and/or forward articles via e-mail to a reasonable number of recipients for personal, non-commercial purposes.