INDEPENDENT RETAILER magazine is now the official news outlet for Wholesale Central visitors. Each monthly issue is packed with new product ideas, supplier profiles, retailing news, and business strategies to help you succeed.

See new articles daily online at IndependentRetailer.com.
Most of us like to see others struggle a little bit before they hit it big. So you will probably like the story of Dan Mier, president of the double tiered success story that is Premiere Products International and EZDROPSHIP.COM.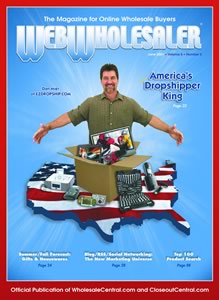 About a decade ago, Mier put the idea of working for somebody else behind him for good. But he had definitely paid his dues as a journeyman laborer and apprentice along the way. He worked in a machine shop in Milwaukee during the 1980s, punching the clock every morning and earning the proverbial honest paycheck. As the decade wore on, his shop eventually was one of the hundreds of industrial factories that shuttered, due to changing economic times.
Mier searched tirelessly for another decent paying wage, but the job market along the Wisconsin-Lake Michigan border was a horror show. He went on unemployment, but that ran out almost as quickly as his luck had.
"I was a statistic, I was hungry and I had to pay the bills," he explained. "I finally found something selling pots and pans and other kitchenware to various businesses with a guy named Larry Hahn. He is now a multi millionaire. He taught me the fundamentals of selling, which I had never done before. He showed me how to introduce what you are about, pitch the product, show the product, close the sale and rehash [upsell]. And he taught me the eight steps to success. The most important were to always have a great attitude and be on time."
Mier drove around with other salesmen, and they helped each other hone the craft that they were being taught by Hahn. He gave them a book called, "The Success Bible," which taught them things such as planning your work, working your plan, goal setting, if you fail to plan, plan to fail.
Meanwhile, their car plodded through the often snowy and slushy streets of Beer City, from one business address to the next. Many times, Mier concedes, "People would just buy something from you out of pity because you were out there working in the cold." He continued, "It would be 30 below zero degrees outside. We would get stuck in the snow. The weather was terrible. But we were motivated. We would get in the car or truck, drive the territory and start pitching."
Do not get him wrong: Mier was selling the kitchenware items, one after another, to business after business. And he was making money. In just a year, he became a company manager who made commissions off the sales of his protégées. The machinist had become a salesman; yet the transformation was still in flux and incomplete. He wanted to branch out into another product area and a warmer geographic location.
In 1991, Mier told his friends and family that he was moving to Tampa, FL, to sell electronics out of the back of his car. They thought he was nuts for leaving a steady job as sales manager in his hometown.
He was only crazy like a fox. Later, in the mid '90s, he read about how people were beginning to make bank on selling items on the Internet via a place called eBay. His curiosity was piqued, as he began imagining using his time tested sales techniques in front of a national and international audience.
"I went to a web developer and began discussions about a site where I could give people their own home businesses," Mier said. "Where they could sell products at auction sites or their proprietary websites. The name, 'EZDROPSHIP.COM,' was available and I jumped on it."
He then tested sales at the site for two weeks, selling whatever quality electronics products he could find online. Today, Premiere Products International is recognized as one of the top drop shippers in the world. Hundreds of web entrepreneurs use Mier's service daily to sell products on their proprietary sites and via auctions like eBay.
"We were the first to offer this one stop web store and drop shipping service to business people, and we are rated as the number one provider running," Mier explained. "We have been able to accomplish this because of our willingness to go the extra mile to help our partners and customers. Our staff's number one goal is to meet the needs of our clients. We guarantee same day shipping. The products that we buy for our customers to buy and sell are in demand closeouts, liquidations and discontinued purchase. Items that can be sold reasonably easily that have very good margins."
Drop Shipping the EZ Way
OK, how exactly does Mier's entrepreneurial solution work? EZDROPSHIP.COM warehouses the products, ships them and warranties each item. Interested parties can become wholesalers within a matter of hours. They can sign up and create their website using the EZ Site Builder Tool for as little as $14.95 per month.
Visit http://ezdropship.com/howitworks.cfm to receive more granular instructions. Also check out Mier's wholesale products destination www.hotbuy4u.com. Meanwhile, eBay auction specialists may make up the crux of Mier's partner-clients, but the pool of enterprises involved with his solution becomes quite varied, as one sifts through the list.
Without question, whether you only have spare time or want to devote full time to your business, the profits are there to be made for the smart and attentive marketer. With more than 400 million web users worldwide and ecommerce sales reaching $900 billion, the opportunity to set up shop and make money while working your day job or sleeping comfortably at night is there for the taking.
"I am not exaggerating when I say that people can learn about the opportunity right after lunch and have an online business before the end of the day," Mier explained. "The great thing is that you get to make your own hours and be your own boss. It is worth noting that this is not a get rich quick scheme. How much money you make depends on what kind of dedication you put into it. The wonderful thing is that there is no startup fee and the demand exists in the marketplace for your business already. We offer hundreds of wholesale items that can be drop shipped anywhere in the U.S., Canada and many other countries."
HotBuy4U.com
Internet resellers, brick and mortar retailers, wholesalers and distributors can see the best electronics products available anywhere by visiting www.hotbuy4u.com. Accessories such as batteries, head sets, memory cards, microphones and other items are available, as well as products in bigger categories like Cameras & Optics, Car Audio & Video, CB's & Scanners, Home Electronics and Collectibles.
In typical arrangements, merchants working through EZDROPSHIP.COM can cherrypick the best products from www.hotbuy4u.com and sell them elsewhere on the Internet, whether it be at their own site or an online auction. Premier Products is currently upgrading the system to allow clients to prepopulate their eBay pages directly from the site, so they do not have to continuously transfer items from one virtual place to the other.
It automatically connects to eBay if you have an account, and it will fill out needed forms that entail things like your name, address, email, website, etc. Resellers will be able to bring product to the eBay marketplace within just a few clicks. In the course of a month or even a year, the time saved in typing out the forms is going to be invaluable to EZDROPSHIP.COM clients.
Mier says the rewards to starting a home based business via his company outweigh the risks if you are diligent by nature. How can millions of satisfied EZDROPSHIP.COM customers be wrong? Why else would they come back for more product, time and time again?
"I know from experience that people are afraid of risk," Mier said. "Once people get their roots planted a little bit, they can get stuck there. It might not be where they want to be, but it is a safe situation that they understand. For entrepreneurs that would like to break out of those situations, my proposition offers no obligation, no contract and no risk."
Where Dreams Come True
Whatever happened to Mier's family members and close friends who thought that maybe his flashlight was minus a battery when he took off for Florida? Well, just two years after the launch of EZDROPSHIP.COM, most of them migrated down to Tampa to join him, and in some cases, become part of his business.
Thousands of entrepreneurs have also followed Mier's lead and have become part of the EZDROPSHIP.COM community. All they need to do is systemize the forwarding of their orders to his automated warehouse facility and collect the money. It is the revolution of the Worldwide Web at its core.
Such entrepreneurs do not have to take off their pajamas in the morning, much less leave their house and trek out into the snow, rain or blistering heat just to hawk pots and pans. Nope, for Mier and his growing list of partner-clients, those days are long gone.
"It is the American Dream story come true for me," Mier said. "I know what it is like to be broke. I moved to Florida with $500 in my pocket. I have gone from selling products out of the trunk of my car to purchasing a 25,000 square foot warehouse facility. We have 13 full time employees and six part time. We get hundreds of orders everyday. We get unsolicited testimonials at the website all of the time. I could not be happier. I still use a lot of the business fundamentals I learned back in Milwaukee. I still use my 'Success Bible' everyday."
For more information, contact:
Premier Products International EZDROPSHIP.COM
Badger Drive
Tampa , FL 33610
Tel.: 813-621-6673
Fax: 813-621-8740
Fax: 813-620-3840
Website: www.EZDROPSHIP.COM
Entire contents ©2023, Sumner Communications, Inc. (203) 748-2050. All rights reserved. No part of this service may be reproduced in any form without the express written permission of Sumner Communications, Inc. except that an individual may download and/or forward articles via e-mail to a reasonable number of recipients for personal, non-commercial purposes.