INDEPENDENT RETAILER magazine is now the official news outlet for Wholesale Central visitors. Each monthly issue is packed with new product ideas, supplier profiles, retailing news, and business strategies to help you succeed.

See new articles daily online at IndependentRetailer.com.
Awesome Wholesale is leading the way in the scale industry by introducing EasyCal(tm), a new patent pending way of calibrating digital scales. EasyCal(tm) is the one button calibration only found on US Balance scales. Keeping a digital scale calibrated is essential to keeping a scale accurate. With EasyCal(tm), all the user has to do is place a calibration weight on the platform and press the EasyCal(tm) button. The scale is then calibrated.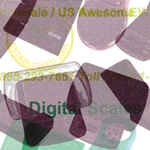 Awesome Wholesale offers many US Balance scales with EasyCal(tm), starting with the WO-USY-300 300g x 0.1g for $5.99, to the US-MAGNUM-1000XR 1000g x 0.1g for $12.50. Awesome Wholesale offers mix & match quantity discounts. This allows the customer to assort the types of scales that they desire, providing a variety of scales at a discounted price.
Check out Awesome Wholesale's website www.awesomescales.com to view their full line of scales. They offer same day shipping and a minimum order of only $100. So the next time you're ready to buy a scale ask for EasyCal(tm) from Awesome Wholesale / US Balance - it's AWESOME!
For more information, contact:
Awesome Wholesale
1098 East Beckes Lane
Beckes Industrial Park
Vincennes, IN 47591
Toll Free: 888-293-7661
Tel.: 812-895-1080
Fax: 812-895-1092
Website: www.awesomescales.com
Entire contents ©2023, Sumner Communications, Inc. (203) 748-2050. All rights reserved. No part of this service may be reproduced in any form without the express written permission of Sumner Communications, Inc. except that an individual may download and/or forward articles via e-mail to a reasonable number of recipients for personal, non-commercial purposes.