INDEPENDENT RETAILER magazine is now the official news outlet for Wholesale Central visitors. Each monthly issue is packed with new product ideas, supplier profiles, retailing news, and business strategies to help you succeed.

See new articles daily online at IndependentRetailer.com.
HARR D. KOENIG & COMPANY INC. has become the exclusive U.S. distributor of, "eco-kid organics for kids," a line of 11 bath and body products especially formulated for children between the ages of three and 12. Wherever possible, the eco.kid line is made from ingredients that are vapor distilled, organically certified, wild harvested, naturally derived and readily biodegradable.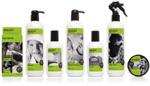 The content is also indigenous to Australia. The combination of ingredients results in products that are enhanced with nutrients, ecologically inert and naturally fragranced and colored. The line includes shampoos, conditioners, hair styling wax, insect repellent, bubble bath and lotions. The hair products also protect against lice. Children's skin is not the same as adult skin. Children's skin produces much less oil, which makes them more vulnerable to chemicals and rashes. The eco.kid lotions are formulated to cleanse and moisturize their sensitive skin, while also addressing these potential problems.
The full line encompasses 16 different stock keeping units, because five of the formulations are offered with and without a pump applicator. The suggested retail price for a majority of the products is $16.50, while some of the units in the pump container contain twice as much product and have a suggested retail of $30. In order to present the line, the supplier strongly suggests a minimum of three to six units of each product, along with 12 units each of, "Daily Leave In Tonic," and, "Bug a Bug Insect Repellent Spray."
The wholesale price for an opening order in the recommended quantities is $624, which is a 50 percent discount in comparison with the retail return. Some flexibility in the assortment is possible.
For more information, contact:
Harry D. Koenig & Company Inc.
Seven Main Street
P.O. Box 125
East Rockaway, NY 11518
Toll Free: 800-645-6503
Tel.: 516-599-1776
Fax: 516-599-1451
Websites: www.harrydkoenig.com
Entire contents ©2022, Sumner Communications, Inc. (203) 748-2050. All rights reserved. No part of this service may be reproduced in any form without the express written permission of Sumner Communications, Inc. except that an individual may download and/or forward articles via e-mail to a reasonable number of recipients for personal, non-commercial purposes.