INDEPENDENT RETAILER magazine is now the official news outlet for Wholesale Central visitors. Each monthly issue is packed with new product ideas, supplier profiles, retailing news, and business strategies to help you succeed.

See new articles daily online at IndependentRetailer.com.
WHEEL-R-DEALER offers a handheld electronic playing card dealer, under the name, "Wheel-R-Dealer." It fits in the palm of the hand and dispenses cards at the touch of a finger, thumb, pencil or other prompter. Wheel-R-Dealer operates on two AA batteries, which are said to provide for the dealing of 500 to 700 decks of cards before replacing. The device is of durable plastic in a non smudging silver color.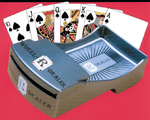 Simply insert the 52 card deck and touch the top card to advance it, and with each touch, a wheel dispenses the top card in the direction Wheel-R-Dealer is pointed. The user has complete control. It was designed especially for anyone who has difficulty dealing cards. The market is children and adults who may suffer from arthritis, for example, or another dexterity difficulty.
Units are packaged in a padded sleeve and each contains complete instructions. The minimum order is a carton of 50 units. In that quantity, the wholesale price is $14. Discounts are offered on higher volume orders. The suggested retail price is $19.99. The company ships from its warehouses in the U.S. and Canada.
For more information:
Wheel-R-Dealer
627 Lyons Lane, Unit 104
Oakville, Ontario, Canada L6J 5Z7
Tel.: 905-901-0258
Website: www.wheel-r-dealer.com
Entire contents ©2023, Sumner Communications, Inc. (203) 748-2050. All rights reserved. No part of this service may be reproduced in any form without the express written permission of Sumner Communications, Inc. except that an individual may download and/or forward articles via e-mail to a reasonable number of recipients for personal, non-commercial purposes.