INDEPENDENT RETAILER magazine is now the official news outlet for Wholesale Central visitors. Each monthly issue is packed with new product ideas, supplier profiles, retailing news, and business strategies to help you succeed.

See new articles daily online at IndependentRetailer.com.
Fifteen years ago, John Tepel, sitting in his living room in the heart of Southern California's earthquake country, established Mayday Industries, a company providing what he describes as, "Little earthquake emergency preparedness kits for schools." For nearly nine years, the company, "Never had an order from East of the Mississippi," he recalls.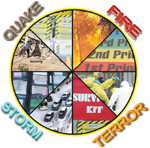 Then came the September 11, 2001 terrorist attacks, and like so many Americans, Tepel and Mayday Industries have never been the same. "Almost immediately, the company began a complete turnaround that took it national," Tepel says.
The attacks, along with a succession of hurricanes, floods, wild fires, blackouts and other disasters, have raised the public's consciousness about the need to be prepared for emergencies large and small. Mayday Industries now carries approximately 300 different emergency related products.
It established a factory at its home base in Westminster, CA, where it manufactures Coast Guard approved emergency food and water, which has a five year shelf life. The other products are sourced globally, and Mayday Industries assembles kits for emergency situations of every scale.
"We provide anything related to security, terrorism or weather threats," Tepel says. The products cover threats from quakes, fires, storms and terrorism. They range from basic first aid kits to generators, from lock down kits to solar powered radios, from hygiene products to tarps and cots. There are even kits for pets and pet safety vests.
Ordering, Tepel says, "Is as easy as ordering pizza." All products are shown and described on the company's website. A variety of merchandising programs are available to retailers, and there is no minimum order requirement. Retailers can obtain a free 35 page catalog. The company will also provide retailers with a free CD, from which they can print point of sale materials.
A small, one person basic survival kit with drinking water, food ration, blanket and light stick, for example, wholesales for $6 a unit. A 19 piece "Road Warrior Kit" contains a Swiss style army knife, flat tire fixer, tow rope, duck tape, flashlight and other tools for emergency situations on the road. Like most Mayday kits, it also includes instructions and a "Need Help" sign. This kit wholesales for $40.50 a unit.
"I never get into providing suggested retail prices," Tepel says. "My guess is that retailers generally at least double the wholesale price."
The company also makes custom kits for corporations and Community Emergency Response Training (CERT) programs, which are now set up in municipalities all across the country. It provides a drop ship program for these and other large volume customers. Mayday Industries also provides products to government agencies. Tepel says company sales will range between $4 and $5 million this year.
For more information, contact:
Mayday Industries
15158 Goldenwest Circle
Westminster, CA 92683
Toll Free: 888-462-9329
Tel.: 714-893-5410
Fax: 714-893-5420
Website: www.maydayindustries.com
Entire contents ©2023, Sumner Communications, Inc. (203) 748-2050. All rights reserved. No part of this service may be reproduced in any form without the express written permission of Sumner Communications, Inc. except that an individual may download and/or forward articles via e-mail to a reasonable number of recipients for personal, non-commercial purposes.