INDEPENDENT RETAILER magazine is now the official news outlet for Wholesale Central visitors. Each monthly issue is packed with new product ideas, supplier profiles, retailing news, and business strategies to help you succeed.

See new articles daily online at IndependentRetailer.com.
DOMIA LTD., a developer of energy saving products in the United Kingdom, has created, "Bye Bye Standby," an energy saving kit which is now available in the U.S. The kit provides an easy way to cut wasteful standby power.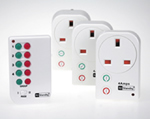 It is a socket adaptor that connects between the wall socket and electric devices that consume energy unnecessarily. These include devices that remain in standby mode, such as printers, computer monitors, faxes, TVs, DVD players, lights, cable and satellite boxes and numerous other household and office devices. Bye Bye Standby reduces electricity bills by switching off these devices left on standby at the touch of a button on the kit's wireless remote control. In tests, the estimated average annual savings by eliminating standby power leakage could range from $63.04 to $273.18, assuming a savings of between six and 26 percent. On that basis, the supplier contends that Bye Bye Standby would pay for itself in less than two months, based on regular use. The suggested retail price is $29.99 a unit, which contains two adaptors, the remote control and complete installation instructions. For more information, contact:
Dixie Sales Company Inc.
P.O. Box 1408
Greensboro, NC 27402
Toll Free: 877-929-3293
Website:
www.byebyestandby.com
Entire contents ©2022, Sumner Communications, Inc. (203) 748-2050. All rights reserved. No part of this service may be reproduced in any form without the express written permission of Sumner Communications, Inc. except that an individual may download and/or forward articles via e-mail to a reasonable number of recipients for personal, non-commercial purposes.