INDEPENDENT RETAILER magazine is now the official news outlet for Wholesale Central visitors. Each monthly issue is packed with new product ideas, supplier profiles, retailing news, and business strategies to help you succeed.

See new articles daily online at IndependentRetailer.com.
DRESS UP AMERICA supplies costumes that are of superior quality in comparison with those generally sold just for the Halloween holiday. These are of dressmaker quality and construction and are made to last year round.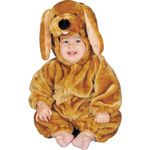 The company provides costumes for kids in sizes from Toddler 4 to extra large 18, a line of baby costumes and also a line of costumes for adults. Among the most popular themes in costumes for kids is the "Everyday Hero" line, which includes police, fire, pilot and SWAT team uniforms, as well as doctors and nurses.
Other popular motifs include matching boys' and girls' outfits for chefs, pilots, sailors, pirates and American Indians. There are multicultural boys' and girls' outfits, including Mexican and Chinese motifs. Among the historical referenced costumes are Napoleon, a Victorian boy, a Colonial soldier and general, and a toy soldier. There's also a Ninja, as well as a knight, wizard, magician and two kings.
The minimum order is $200, and can include any combination within all three age groups. The wholesale prices for the kids' line range from $13 to $18, and suggested retail ranges from about $25 to $35.
Among the most popular in the full line of baby costumes are a pumpkin, spider and snowman. Units in this line run between $13 and $14 and have a suggested retail of $25 to $35. The adult costumes are primarily patterned after the best selling male and female kids' costumes.
All are authentic looking, and all are individually packaged and machine washable.
For more information, contact:
Dress Up America
1215 39th Street
Brooklyn, NY 11218
Toll Free: 866-943-7377
Tel.: 718-436-0031
Fax: 775-878-4576
Website: www.dressupamerica.com
Entire contents ©2023, Sumner Communications, Inc. (203) 748-2050. All rights reserved. No part of this service may be reproduced in any form without the express written permission of Sumner Communications, Inc. except that an individual may download and/or forward articles via e-mail to a reasonable number of recipients for personal, non-commercial purposes.